Visiting the Villas….But It's All About the Jamaican Food!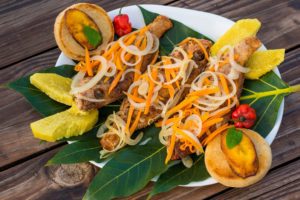 When the sales team go to visit villas in Jamaica, we run around like mad inspecting villas! Yes we have our villas to inspect, we speak with the staff and to make sure we understand the layout of a villa, the advantages and disadvantages of any villa, the intricacies of every aspect of Jamaican villas…..we become like a villa encyclopedia in our Jamaican Treasures minds!
However, there are certain things that are a must when we go to Jamaica. One of them is definitely about the food! We have traveled to a lot of Caribbean islands, but Jamaica has the best and most tasty food that we know!
My favorite dishes that I HAVE TO HAVE are:
Stew Peas
Escovitche Fish and onions, carrots, scotch bonnet pepper and vinegar sauce
Roast Breadfruit / Fried Breadfruit
Jerk pork
Boiled corn like how they do it at Faith's Pen!
Curry Goat
Curry Conch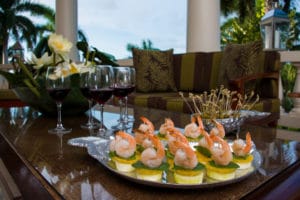 My mom actually cooks all of these specialties at home and not to be biased but she is the best cook in the world! She has a passion for her cooking. But that means I am spoilt with good Jamaican food at a very high standard! When I got married, I tried to duplicate the same, but somehow the tastes just burst out more somehow when you have these dishes in Jamaica. We have been to all these restaurants and can highly recommend them to you!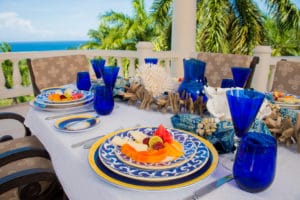 RESTAURANTS/ FOOD!
1.Marguerites in Montego Bay http://www.margueritesjamaica.com/
2.Half Moon Sugar Mill Restaurant http://www.halfmoon.com/dining/sugar-mill-en.html
3.The Pelican http://www.pelicangrillja.com Montego Bay Hipstrip
4.House Boat Grill http://www.thehouseboatgrill.com near Freeport
5.Robbie Josephs Seahorse at http://www.theseahorsegrillja.com
6.Mosino Gaming https://www.facebook.com/mosinogaming/ near Mega Mart
7.Margaritaville on the Hip Strip http://www.margaritavillecaribbean.com/locations/montego-bay/
8.SCOTCHIES jerk center -Casual– Ocho Rios/ Discovery Bay and Montego Bay
9.http://gocaribbean.about.com/od/resta6/a/ScotchiesJamaica.htm
10.Margarittaville- Casual (Montego Bay and Negril) http://www.margaritavillecaribbean.com/
11.Ricks Café in Negril http://www.rickscafejamaica.com/
12.Smoked Marlin in Sandy Bay, Montego Bay, Hopewell http://www.smokedmarlinrestaurant.com/
13.Lobster Trapp in Montego Bay, Hopewell http://lobstertrapp.com/ (must make reservations)
14.Sky Beach in Montego Bay, Hopewell https://www.facebook.com/SKY-BEACH-BAR-SEAFOOD-GRILL-165332371482/
BEHIND THE SCENES AT JAMAICAN TREASURES!
#proudofjamaica #jamaicantreasuresvillas #welovewhatwedo
Please take a look at our behind the scenes villa inspections, trying local restaurants, meeting with villa owners and villa staff. Yes we really have a passion for what we do AND YES we really do know our villas and our island!!